General
Turn on all overhead lights, lamps and exterior lights. 

Replace all burned-out light bulbs!!!! 

If possible, try to ensure that lightbulbs are all of a similar light colour (4000-5200K is best)

Clean your windows! This can make a big difference in the pictures!

Open all Blinds, Shades, and Curtains

Wherever possible remove personal photographs, especially larger ones. Some can be left, but try to keep it to a minimum

Remove garbage and recycle containers

Remove table coverings unless they're covering damage table tops

Remove all signs of pets 

Turn off TVs and put remotes away

Turn off ceiling fans

Turn on fireplace if functional

Consider removing less photogenic pieces of small furniture and placing in garage.  Professional stagers often remove 50% of the furniture from homes that they stages.  Remember that you're trying to feature your space, not your stuff.

A good idea for some of that extra furniture can be setting up a small, functional office space.  With more & more people working from home, it's become an important feature for buyers.

Don't forget your entry way.  It can be one of the most photogenic spaces in your home, often with great natural light.  Shoes, boots, coats all put away.
Living Room
Open blinds/window treatments to let in outside light.

Remove stacks of magazines, papers, mail, etc.

De-clutter fireplace area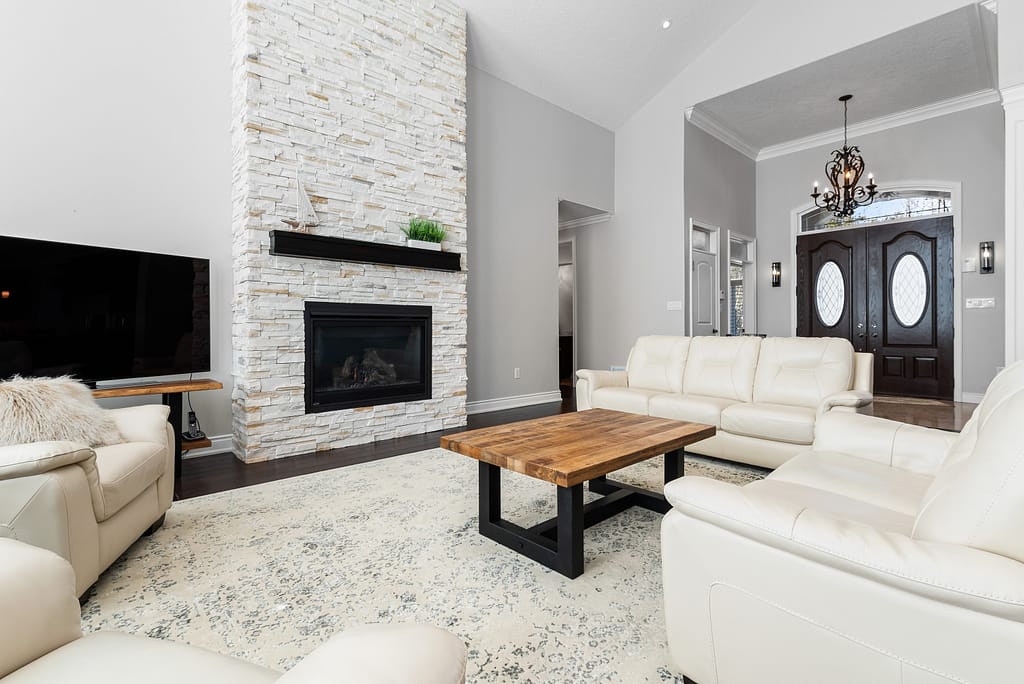 Dining Room
Set the dining room table 

Place wine glasses and wine on table 

Make sure all chairs are evenly placed and at the same distance from the table.

Candles can provide an additional element of warmth and ambience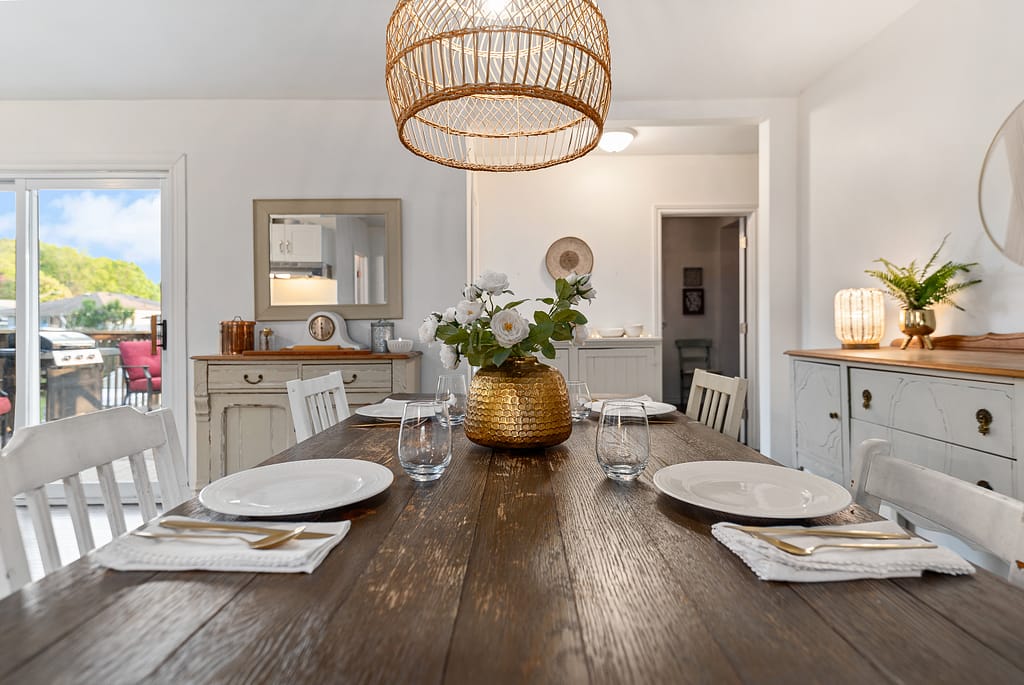 Kitchen
All lights should be on including under cabinet lighting and over stove lighting.

De-clutter your countertop area, including the removal of some kitchen appliances.  The expensive stainless steel espresso maker?  That's probably fine.  The 10 yr old blender that still gets the job done but isn't so pretty anymore?   Let's find a place for it in the cupboard.

Refrigerators should be cleared of any magnets, pictures and flyers. 

Give your fridge & appliances a good wipe down. If they're stainless steel, I highly suggest a streak free stainless steel cleaning product. 
Consider staging a small display of cooking related material. Even something as simple as few cookbooks, with some attractive dishware can make for a good image.
Bedrooms
Make bed, including decorative pillows/shams if available.
Make sure bedside lamps are working, with lightbulbs of identical light colour
Clear nightstands of all personal items.
Store away phone/tablet charging cables.
Remove all clutter from the top of the dressers.
Excellent closet organizers can be a great selling feature.  If you want it featured though, ensure that it's decluttered and ready for photographing.
If you have a desk in the room, clear it off as much as possible.
Bathrooms
Clean the mirrors!
Clear counter-tops completely. No plastic soap dispensers, toothbrushes, medications, deodorant, makeup etc. If you have nice decorative dispensers they may be OK, but make sure they are clean.
If you have glass shower doors, remove all shampoos, soaps, and brushes from the shower.
Remove dirty towels – leave out only matching, unused towels
Remove floor mats.
Put the toilet seats down.
Consider some small green plants, a small pop of colour can help, especially with white bathrooms.
Exterior
Remove cars from the driveway. Sometimes it's a good idea to park your car in front of the home to prevent someone else from parking there. Then you can move it when the photographer is ready to take the pictures.
Curb appeal can be a huge draw for potential buyers.  Consider power washing the front of your home, driveways, walkways, patios/decks and wood fences.
Blow or sweep off your walkways, patio, and driveways
Remove empty planter or items that cause clutter.
Neatly roll and store hoses and sprinklers.
Lawns should be well-manicured.
Rake leaves.
Remove pool covers and BBQ covers.
Remove children's toys where possible, sandboxes raked.
Dog poop!!!!
Clean and stage any outdoor sitting areas. More and more home buyers are leaving the condo life behind and are looking for "oasis", or "getaway" backyards and private outdoor spaces.